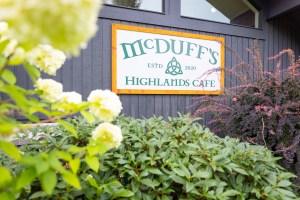 Open daily from 7 am to 9 pm
SCHEDULE YOUR NEXT EVENT AT MCDUFF'S!
Surrounded by the exquisite Highlands Golf Course, the newly-constructed McDuff's Highlands Cafe opened in March 2020. This beautifully built cafe and bar is the perfect venue for hosting your reception, party, reunion, or business meeting. With comfortable indoor seating for up to 75, McDuff's will expand to include the adjacent patio – with custom pergola and fire pits – to accommodate 150+.We offer beer/wine and non-alcoholic beverages, banquet permit for alcohol, staff support, two indoor televisions, Indoor/outdoor sound system, free Wifi, set-up and break down. No outside alcoholic beverages allowed. Additional services available upon request.
Contact us using the form below or email mcduffscafe@gmail.com for more information on catering options!